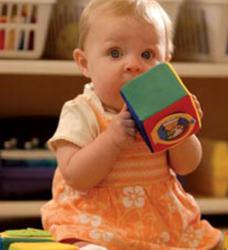 A new baby brings a flood of emotions to a household. Whether it is the first or fifth, the feeling of a new baby coming home is excitement (of course coupled with the realization of extensive responsibility). The great thing is that the excitement does not stop there; it continuously pops up often, especially in the form of milestones. Throughout our lives we will accomplish great things and some of them, we will not even remember. Here are some milestones our infants experience:
Your baby can bring his hands together.
With a mighty effort, baby can raise his chest, supported by his arms, when he lies on his stomach.
Baby can roll over (one way).
He reaches for objects.
Baby can put some weight on his legs when you hold him upright.
He makes sounds like "ah goo."
Baby laughs out loud.
He squeals when he's happy.
Baby smiles spontaneously.
He can focus on very small objects.
Baby turns toward the sound of a familiar voice.
Remember, all babies have their own internal development timetable. If your 3-month-old hasn't yet reached these milestones, rest assured that he will in time. If you have concerns about your baby's development, discuss them with his doctor.
Comment below with the most exciting or favorite milestone of your infant